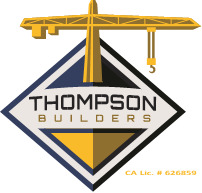 Outreach Coordinator
Dalia Nieto
Contact Information
250 Bel Marin Keys Blvd., Bldg. A
Novato, CA 94949
Telephone
(415) 456-8972
Fax
(415) 459-0665
Thompson Builders Corporation
is seeking qualified DVBEss
Project Name
Glenwood Elementary Multipurpose Room
Bid/Contract #
18-01
Awarding Agency
San Rafael City Schools
Project Location
San Rafael, Marin County, CA
Bid Date
04/26/2018 at 02:00
Project Details
SCOPE: Construction of a new Multipurpose Room building at Glenwood Elementary School. Site work and preparation for construction, utility
connections, new building construction.

ESTIMATE: $3,000,000

GOAL: DVBE 3%

Seeking subcontractors/suppliers and truckers. Trades needed (but not limited to):
Division 02 Existing Conditions (Selective Demolition; Asbestos Abatement; Lead-Impacted Construction and Abatement)
Division 03 Concrete (Concrete Forming; Concrete Reinforcing; Cast In Place Concrete; Concrete Vapor Control Treatment)
Division 05 Metals (Shop-Applied Fluoropolymer Coatings for Metal; Structural Steel Framing; Steel Roof Decking; Metal Fabrications; Metal Ladders)
Division 06 Wood, Plastics and Composites (Rough Carpentry; Sheathing; Glued-Laminated Construction;; Exterior Finish Carpentry; Interior Finish Carpentry; Plastic-Laminate Faced Wood Paneling)
Division 07 Thermal and Moisture Protection (Thermal Insulation; Weather Barriers; Below Grade Vapor Barriers; Soffit Panels; Modified Bituminous Membrane Roofing; Sheet Metal Flashing and Trim; Manufactured Roof Expansion Joints; Penetration Firestopping; Joint Firestopping; Joint Sealants)
Division 08 Openings (Hollow Metal Frames; Flush Wood Doors; Access Doors and Frames; Floor Doors; Aluminum-Framed Entrances and Storefronts; Fiberglass-Sandwich Panel Skylights; Door Hardware; Glazing; Fixed Louvers)
Division 09 Finishes (Acrylic-Modified Portland Cement Plastering; Gypsum Board; Acoustical Tile Ceilings; Hardboard Stage Flooring Assembly; Resilient Base and Accessories; Sheet Vinyl Resilient Multi Purpose/Sport Flooring; Cementitious Wood Fiber Wall Panels; Painting)
Division 10 Specialties (Signage; Fire Protection Specialties)
Division 11 Equipment (Projection Screens; Platform Curtains; Gymnasium Equipment; Scoreboard; Gymnasium Dividers; Exterior Basketball Equipment)
Division 12 Furnishings (Roller Window Shades)
Division 14 Conveying Equipment (Vertical Wheelchair Lift)
Division 21 Fire Suppression (Wet Pipe Fire Sprinkler System)
Division 23 HVAC (Common Work Results for HVAC; Testing, Adjusting, and Balancing; Mechanical Insulation; Duct and Accessories; Ceiling Fans; HVAC Power Ventilators; Diffusers, Registers, and Grilles; Furnaces)
Division 26 Electrical (Basic Electrical Materials and Methods; Grounding and Bonding; Conductors and Cables; Seismic Controls for Electrical Work; Lighting Control Devices; Panelboards; Wiring Devices; Fuses; Enclosed Switches and Circuit Breakers; Lighting)
Division 27 Communications (General Technology requirements ; Telecommunications Grounding Protection; Horizontal Cabling; Intercom, Clock and Bell System; Assistive Listening System)
Division 28 Electronic Safety and Security (Fire Alarm System)
Division 31 Earthwork (Site Preparation and Plant Protection; Earthwork; Trenching and Backfilling)
Division 32 Exterior Improvements (Aggregate Base Courses; Asphalt Paving and Surfacing; Painted Pavement Markings)
Division 33 Utilities (Water Systems; Sanitary Sewer; Storm Drainage)

Please submit bids to us by noon on bid day.
We are signatory to both the Carpenters Collective Bargaining Agreement and the Laborers Collective Bargaining Agreement. Certification of insurance for General Liability and Workers Compensation are required. A Waiver of Subrogation will also be required with all Subcontract Agreements. Subcontractors faithful performance and payment bonds in the amount of the subcontract price will be required. Reasonable market rate bond premium will be reimbursed by Thompson Builders Corporation. TBC is willing to discuss breaking down bid items into economically feasible units for minority participation. Our estimating department is available for assistance with bonding, lines of credit, insurance, equipment, supplies and/or materials. The Small Business Administration (www.sba.gov ), the California Dept. of General Services (www.dgs.ca.gov) and U.S. Dept. of Transportation Office of Small and Disadvantaged Business Utilization (www.osdbu.dot.gov ) may also be able to offer financial assistance and/or information regarding insurance and bonding. Plans and specs may be viewed in our office at 250 Bel Marin Keys Blvd., Bldg. A, Novato Monday through Friday from 7:30 AM to 4:30 PM or can be e-mailed upon request. Plans and specs downloaded from: https://tpcorp.box.com/s/b1wss93q9ylzc6l00b82r7i1t0xo2aou

*No contractor or subcontractor may be listed on a bid proposal for a public works project (submitted on or after March 1, 2015) unless registered with the Department of Industrial Relations pursuant to Labor Code section 1725.5 [with limited exceptions from this requirement for bid purposes only under Labor Code section 1771.1(a)] *No contractor or subcontractor may be awarded a contract for public work on a public works project (awarded on or after April 1, 2015) unless registered with the Department of Industrial Relations pursuant to Labor Code section 1725.5. *This project is subject to compliance monitoring and enforcement by the Department of Industrial Relations.