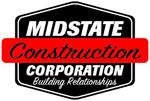 Outreach Coordinator
Shannon Murray
Project Estimator
Richard Harryman
Contact Information
1180 Holm Road
Petaluma, CA 94954
Telephone
(707) 762-3200 ext. x2320
Fax
(707) 762-0700
Midstate Construction Corp.
is seeking qualified DBEs, MBEs, WBEss
Project Name
Bernal Gateway Repairs
Bid/Contract #
18047
Awarding Agency
Bernal Heights Housing Corporation
Project Location
San Francisco, San Francisco County, CA
Bid Date
12/19/2018 at 02:00
Project Details
REQUEST FOR BIDS - BERNAL GATEWAY

Project is subject to Federal Davis-Bacon Prevailing Wages and MBE/WBE/Section 3 requirements.

MBE/WBE/Section 3 Subs & Suppliers are encouraged to bid.

Proposals due 12/19/2018

Scope of work includes (but may not be limited to):
EXTERIOR IMPROVEMENTS: Paint entire exterior. Remove & Replace Roofing
MECHANICAL: Per Unit Interior Replacement Schedule A9.1
PLUMBING: Per Unit Interior Replacement Schedule A9.1
ACCESSIBILITY: See drawings
COMMON AREA INTERIOR IMPROVEMENTS: See drawings
RESIDENTIAL UNIT IMPROVEMENTS:
Replace unit fixtures, appliances & finishes per Unit Interior Replacement Schedule
In addition to the Base Scope, please breakout pricing for segregated scope of work #1, 2, and 3 noted on T1.

As of November 21, 2018, Addendum Nos. 1 & 2 have been issued.

Email bids to: richardh@midstateconstruction.com or bidroom@midstateconstruction.com

Please contact Richard Harryman, Project Estimator, with any questions. Direct: 707-559-2354




We are an equal opportunity employer. The plans and specs are available for your review at our office and online at: https://secure.smartinsight.co/#/PublicBidProject/403250.
Bonds will not be required from qualified subcontractors. Bids may be faxed or emailed in PDF format to: bidroom@midstateconstruction.com.