Welcome to
DBE Journal
, formerly
Outreach Impact
.
Find Subcontract Opportunities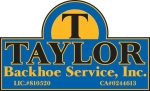 Outreach Coordinator
Megan Kingston
Contact Information
1600 Falcon Way
Merced, CA 95341
Telephone
(209) 384-8424
Fax
(209) 384-7629
Taylor Backhoe Service, Inc.
is seeking qualified DBEss
Project Name
CMAQ - Construct Infill Sidewalk Improvements
Bid/Contract #
CML-5160 (027)
Awarding Agency
City of Los Banos
Project Location
Los Banos, Merced County, CA
Bid Date
10/15/2019 at 02:00
Project Details
We are seeking quotes for the following: Concrete & Signage.
We are an equal opportunity employer. The plans and specs are available for your review at our office.
Copyright © 2020, DBE GoodFaith, Inc. All rights reserved.