Welcome to
DBE Journal
, formerly
Outreach Impact
.
Find Subcontract Opportunities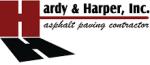 Outreach Coordinator
Ashlie Blanchard
Contact Information
32 Rancho Circle
Lake Forest, CA 92630
Telephone
(714) 444-1851
Fax
(714) 444-2801
Hardy & Harper, Inc.
is seeking qualified DBEss
Project Name
10th Street West Road Diet and Bikeway Improvements
Bid/Contract #
16-004
Awarding Agency
CITY OF LANCASTER
Project Location
LANCASTER, LOS ANGELES County, CA
Bid Date
03/31/2020 at 11:00
Project Details
MOBILIZATION
TRAFFIC CONTROL
CLEARING AND GRUBBING
EXCAVATION
LANDSCAPING
UTILITY ADJUSTMENTS
We are an equal opportunity employer. The plans and specs are available for your review at our office or we can fax you the proposal schedule. Bonds will not be required from qualified subcontractors.
Copyright © 2020, DBE GoodFaith, Inc. All rights reserved.